Blog 08: Drawing autonomy in AUKUS defence documents
I'm moving on from focusing primarily on Australia in previous blogs, to now starting to compare Australia, the United Kingdom, and the United States. As the three Anglophone countries investing significantly in robotics and autonomous systems, and the three AUKUS countries trying to deepen interoperability – I feel they make for a fascinating comparison. This blog will be the first in a series where I compare how autonomy is being discussed in official defence documents across the three states.
This first blog is a very simple one – but nevertheless a good place to start. Here I am simply tracking mentions of autonomy-related words over time. The mentions are taken from all of the official defence concepts or doctrines I could find on Australian, US, and UK defence websites that had at least one relevant mention of autonomy/autonomous/autonomously (ie, not autonomous sanctions). All up, this comprised 63 documents – 13 Australian, 16 British, and 34 American.
On the one hand, the results may reflect most heavily the years in which particular states happened to release official defence documents discussing autonomy (hence a big surge in one year from one state, and little to nothing the next). On the other hand, there is a reasonably noticeable increase over time. Two things I see which jumped out to me – 1) the growing prevalence of Australia over time, and 2) the greater prevalence in Australia than the UK.
In the next blog I'll be looking in more detail at some key features of these documents, including a comparison of air, ground, and sea. For now, I'll leave you to explore the visualisation, and the list of sources used below ordered by total mentions of autonomy-related words.
— Sian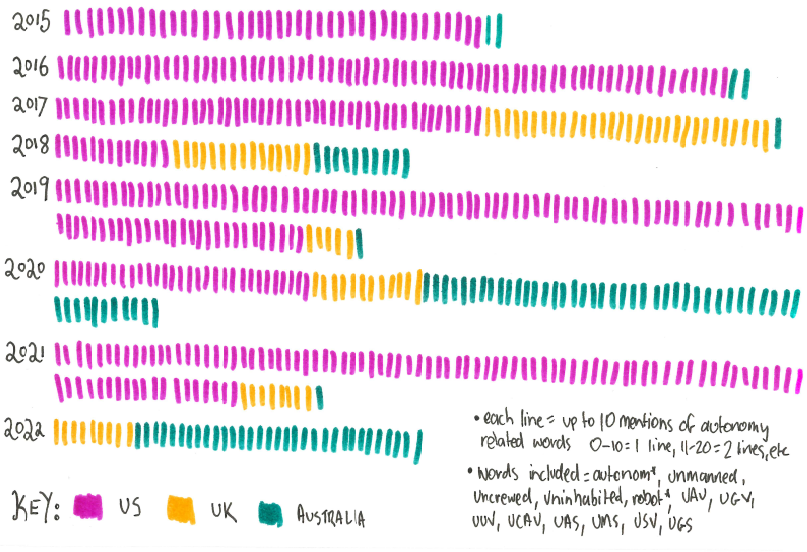 | | |
| --- | --- |
| Document | Total |
| 14. 2019 Air Force Autonomous Horizons: The Way Forward | 1005 |
| 7. 2016 US Marine Corps MCWP 3-20.5: Unmanned Aircraft Systems Operations | 581 |
| 9. 2017 Unmanned Systems Integrated Roadmap 2017-2042 | 479 |
| 37. 2021 Department of the Navy, Unmanned Campaign Framework | 388 |
| 3. 2015 Autonomous Horizons: System Autonomy in the Air Force - A Path to the Future | 349 |
| 67. 2020 ADF, Concept for Robotic and Autonomous Systems | 275 |
| 36. 2021 US Department of Defense, Counter-Small Unmanned Aircraft Systems | 263 |
| 44. 2017 Joint Doctrine Publication 0-32: Unmanned Aircraft Systems | 226 |
| 69. 2022 Army Robotic & Autonomous Systems Strategy v.2.0 | 225 |
| 45. 2018 Joint Concept Note 1/18: Human-Machine Teaming | 139 |
| 65. 2020 Department of Defence, A Method for Ethical AI in Defence | 114 |
| 32. 2021 Army Futures Command Concept for Protection 2028 | 101 |
| 22. 2020 Army Futures Command Concept for Brigade Combat Team Cross-Domain Maneuver 2028 | 90 |
| 8. 2016 Department of the Navy, Naval Aviation Vision | 89 |
| 48. 2020 British Army Approach to Robotics and Autonomous Systems: Generating Human-Machine Teams | 89 |
| 70. 2022 Navy RAS-AI Campaign Plan 2025: Warfare Innovation Navy | 89 |
| 66. 2020 Royal Australian Navy, RAS-AI Strategy 2040: Warfare Innovation Navy | 85 |
| 61. 2018 Army Robotic & Autonomous Systems Strategy | 81 |
| 10. 2018 US Marine Corps MCTP 3-20G: Air Reconnaissance | 80 |
| 25. 2020 Army Futures Command Concept for Special Operations 2028 | 69 |
| 31. 2021 Army Futures Command Concept for Fires 2028 | 63 |
| 55. 2022 Joint Doctrine Publication 0-30: UK Air Power | 58 |
| 23. 2020 Army Futures Command Concept for Intelligence 2028 | 51 |
| 47. 2019 Ministry of Defence, Defence Technology Framework | 47 |
| 1. 2015 Air Force Future Operating Concept: A View of the Air Force in 2035 | 44 |
| 29. 2021 Army Futures Command Concept for Command and Control 2028: Pursuing Decision Dominance | 39 |
| 54. 2021 Joint Concept Note 3/21: Future Joint Personnel Recovery | 36 |
| 52. 2021 Ministry of Defence CP 411, Defence in a Competitive Age | 31 |
| 38. 2021 Navy Aviation Vision 2030-2035 | 29 |
| 39. 2017 Ministry of Defence Joint Concept Note 1/17: Future Force Concept | 28 |
| 30. 2021 Army Futures Command Concept for Cyberspace and Electromagnetic Operations 2028 | 27 |
| 56. 2022 Royal Navy, Maritime Operating Concept MarOpC: The Maritime Force Contribution to the Integrated Operating Concept | 27 |
| 6. 2016 Joint Operating Environment JOE 2035: The Joint Force in a Contested and Disordered World | 26 |
| 42. 2017 Joint Doctrine Publication 0-30: UK Air and Space Power | 26 |
| 11. 2018 Army the U.S. Army in Multi-Domain Operations 2028 | 23 |
| 26. 2020 United States Marine Corps, Department of the Navy, and Coast Guard, Advantage at Sea: Prevailing with Integrated All-Domain Naval Power | 23 |
| 12. 2018 U.S. Army Concept: Multi-Domain Combined Arms Operations at Echelons Above Brigade 2025-2045 | 22 |
| 24. 2020 Army Futures Command Concept for Maneuver in Multi-Domain Operations 2028 | 21 |
| 58. 2016 Department of Defence, 2016 Defence White Paper | 16 |
| 4. 2016 Air Force Doctrine Publication 3-0: Operations and Planning | 14 |
| 21. 2020 Air Force Doctrine Publication 3-59: Weather Operations | 14 |
| 15. 2019 Air Force Doctrine Publication 3-01: Counterair Operations | 13 |
| 50. 2020 Joint Doctrine Note 1/20: Air Manoeuvre | 13 |
| 63. 2020 Department of Defence, 2020 Force Structure Plan | 13 |
| 19. 2020 Air Force Doctrine Publication 3-03: Counterland Operations | 12 |
| 33. 2021 Army Modernization Strategy: Investing in the Future | 12 |
| 28. 2021 Air Force Doctrine Publication 3-52: Airspace Control | 11 |
| 57. 2015 Department of Defence, Guarding Against Uncertainty: Australian Attitudes to Defence | 11 |
| 60. 2018 ADF Concept for Command and Control of the Future Force | 11 |
| 34. 2021 Army Chief of Staff Paper #1, Army Multi-Domain Transformation: Ready to Win in Competition and Conflict | 10 |
| 49. 2020 Joint Concept Note 1/20: Multi-Domain Integration | 10 |
| 18. 2019 Army Modernization Strategy: Investing in the Future | 9 |
| 40. 2017 Joint Concept Note 2/17: Future of Command and Control | 8 |
| 5. 2016 United States Joint Staff Joint Force Development (J7) – Future Joint Force Development: Cross-Domain Synergy in Joint Operations | 7 |
| 2. 2015 Air Force Doctrine Publication 2-0: Globally Integrated ISR Operations | 6 |
| 53. 2021 Ministry of Defence, Integrated Operating Concept | 6 |
| 62. 2019 Royal Australian Air Force, At the Edge: Exploring and Exploiting our Fifth-Generation Edges | 6 |
| 17. 2019 Air Force Doctrine Publication 3-10: Force Protection | 5 |
| 51. 2021 Defence Experimentation for Force Development Handbook | 5 |
| 59. 2017 Royal Australian Navy, Mercator: Maritime Domain Strategy 2040 | 5 |
| 13. 2018 Summary of the 2018 National Defense Strategy of the United States of America: Sharpening the American Military's Competitive Edge | 4 |
| 27. 2021 Air Force Doctrine Publication Note 1-21: Agile Combat Employment | 4 |
| 35. 2021 The Army Unified Network Plan 2021: The Army Unified Network Plan Enabling Multi-Domain Operations | 4 |
| 41. 2017 Joint Doctrine Note 1/17: Joint Theatre Entry | 4 |
| 46. 2018 Joint Doctrine Note 1/18: Cyber and Electromagnetic Activities | 4 |
| 20. 2020 Air Force Doctrine Publication 3-05: Special Operations | 3 |
| 64. 2020 Department of Defence, 2020 Defence Strategic Update | 3 |
| 16. 2019 Air Force Doctrine Publication 3-04: Countersea Operations | 2 |
| 43. 2017 Joint Doctrine Publication 0-20: UK Land Power | 2 |
| 68. 2021 ADF Philosophical Doctrine: Military Ethics | 1 |